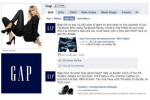 We've been waiting for some evidence on the use of transactions through social media and it looks like eMarketer has come up with the goods.
They've discovered that users are not just willing to follow e-Commerce sites and retailers for deals and discounts, but they're also happy to purchase directly through sites like Facebook. In fact out of all of the new ways to purchase online, it's Facebook that's coming up trumps.

Social media sites have become incredibly important for brands and retailers to engage with their audience and users. Just look at Top Shop, they have the perfect social media campaigns to engage users and keep them interested in their brand [See: Social Media Success for Retail Brands].
Yet there is so much more that retailers can be doing, and eMarketer's findings go a long way to support the idea of implementing a way to transact through the social media site.
79% of the Top 500 retailers online have Facebook pages, with 53% of Facebook users having reached a retailers' site through their Facebook page. In addition, 35% of online shoppers said they would likely make a purchase through the social media giant. This is despite only 12% of the top 500 retailers actually having apps and widgets to enable transactions through Facebook.
Over the past year, the official Facebook Pages of retailers have become more popular amongst US online buyers than traditional review sites and even other social media platforms such as Twitter.
Users gravitate to Retailers' Facebook pages in the hope of finding sales and promotions; in fact 56% of people surveyed cited this as their main motivation. It's time retailers took advantage of this popularity and offered their users the chance to purchase through Facebook.
Recent changes to the way Facebook pages are designed have enhanced branding and the way retailers can interact with their users [See: Social Media Marketing: Facebook Switch to iFrames]. With such advances in technology and the overwhelming desire for 'F-Commerce', is it time for retailers to enable transactions through Facebook? Well the evidence speaks for itself.
Share this post