Sometimes the smallest changes to your day-to-day work can make the biggest difference. We can all increase productivity by saving just a small amount of time on some every day tasks or by becoming a little more organised in the way we work. Here are my tips.
I have collated these simple, actionable tips with business marketing managers and small business owners in mind, although most will be useful for everyone.
1. Manage Your Email Subscriptions With Unroll.me
The majority of us are used to getting a multitude of emails every day, of which only a small proportion are actually of interest. After somehow signing up to some apparent mailing list, we are now used to seeing spammy emails arrive in our inbox each day which we ignore or delete straight away because it's too much effort to unsubscribe.
What's more, it can be hard to find the good stuff that we actually want to read when we are so used to ignoring the notification of a new email, expecting to see a spammy newsletter. All of this reduces productivity and increases the potential for distraction.
This is where Unroll.me comes in. And it's awesome.
This free tool connects to your mailbox and goes through your emails to identify any subscriptions. When it's ready, Unroll.me presents you with a list of all the email subscriptions it's found and gives you three options for each; add to rollup, Unsubscribe or Keep in Inbox:
You can first go through and unsubscribe from any newsletter subscriptions you're not interested in receiving. Unsubscribe from all the rubbish in one window – easy.
The best bit about Unroll.Me is the rollup feature for any email subscriptions you do still want to receive. You can add all of those subscriptions to your rollup and receive just one "rolled up" email a day with any newsletters and subscription emails that came through that day.
Unroll.Me is a really useful tool for cleaning up your email and dramatically reducing distractions when emails are continually flowing through all day. If your email is a mess and you get numerous emails a day that you're not interested in, I highly recommend you give it a go.
2. Social Media Automation Tools
Developing and maintaining strong social media profiles through regular engagement is really important for all businesses, but can feel like a chore. However, with the right tools and a clear strategy, populating your profiles frequently and regularly can take just a few minutes a day.
Buffer is a fantastic free tool that allows you to queue up and schedule posts to a number of your social media profiles, including Facebook, Twitter, LinkedIn and Google+ Pages. The free version allows you to connect up to 12 accounts and queue up to 10 posts at a time, meaning you can easily schedule posts for several days in one go. Simply set your schedule, add your updates or shares and leave the tool to do the rest.
Another great tool for automation is IFTTT, or "If This Then That". This tool uses "recipes" that you create to automatically take action if certain criteria are met. For example, you could create a recipe that automatically shares the latest business video you uploaded to YouTube on Twitter, or queues it up in Buffer.
Here are some examples of popular recipes on IFTTT:
3. Google Analytics Dashboards For Top-level Overviews
Google Analytics provides a wealth of useful information and insights into the performance of your website and the behaviour of its visitors. However, getting and analysing the information it holds can be a daunting and time-consuming task.
That's where Dashboards come in. Once set up to include the information and reports important to you, Dashboards allow you to see numerous reports organised in one place, giving you a visual overview of your site's performance.
To get you started, here is a useful top-level SEO dashboard:
Simply click the link and select the profile in Google Analytics you want to add it to.
Google Analytics Dashboards are really simple to create, customise and use. You can save a lot of time digging through irrelevant reports and data by using simple Dashboards built around the information that is important to you.
4. Calendarise And Structure Your Day
It might seem obvious, but it amazes me how many people don't use a calendar to structure their daily tasks. I'm not sure how I'd get through the day without my Outlook Calendar.
Here are some basic, but really useful tips to use with your Outlook Calendar:
Set appropriate reminders for every task, even if it's just 5-10 minutes' notice. This means that you know when you next have a task coming up and you can wrap up what you're doing and move on.
Create custom categories and label each of your tasks accordingly, represented by different colours. For example, you might have different categories for "Meeting", "Events", etc.
Set up recurrences for regular checks or tasks to make sure they aren't missed.
Set defaults in your Calendar settings (File > Options > Calendar for Office 2010), including your normal working hours and days and the default reminder time for new tasks.
Update your calendar retrospectively if something has overrun or needed to be changed. This helps you keep track of how long you spend on tasks and how much you've got done.
By clearly structuring my calendar in advance I know what I'm working on and when, dramatically increasing my productivity. Here's a screenshot of my calendar to give you an idea how I use it: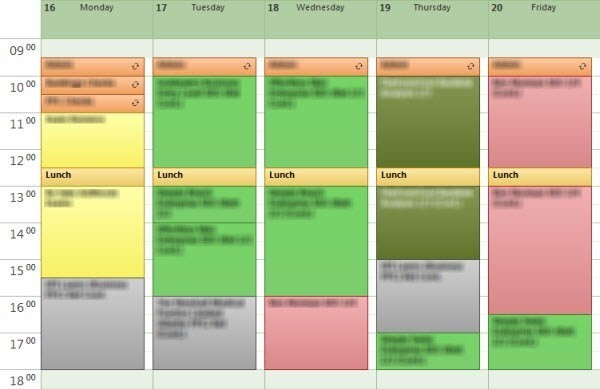 If you use a physical diary instead, try to be more specific with the tasks and time-scales you schedule, even if it's updated retrospectively to reflect any urgent tasks that came up.
Staying organised saves a lot of time in the long run and is great practice for increased productivity.
5. Outsource Appropriately
Outsourcing is essential for businesses of all sizes, but is only beneficial when used properly; the right processes outsourced to the right people.
Be realistic and reasonable about your own skill set and time constraints. Make lists of all the work that needs doing and consider whether you can do it well enough for it to be a success and if you really have the time to make sure the important stuff is always done.
For many marketing managers, strategising and budgeting are common strengths, while creating content and maintaining websites are not so much.
When it comes to outsourcing, make sure you choose specialists where budget permits, who tend to offer a better service than jack-of-all-trade firms.
Equally, consider the services you already outsource and make sure that you're getting the most from doing so. Could something be done better or quicker in-house? Could that outsourcing budget be better spent in another area that needs more specialist attention?
Happy Productivity!
I hope you found these tips useful. Even if just one of them helps you save a little bit of time each day or do tasks in a simpler way then my work here is done! Feel free to share any other productivity tips you've found in the comments below.
Image Credit
Desk Calendar image Via Bigstock
Share this post