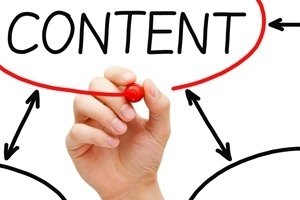 As most people have observed, the SEO landscape has evolved significantly within the last few years. Although this was always perceived as inevitable, given that technology develops and search engines look to improve their algorithms, it's a trend that is bound to happen again in the near future. Older tricks and techniques which were once at the forefront of SEO have become redundant and newer methods have emerged in their place.
In today's landscape things are very different. Ever since the most recent set of Google updates, notably Penguin and Panda, stronger attention is being drawn for those working and engaging in SEO to focus on seeking quality links, building decent content and creating a strong social presence online. Few, if at all any, in the industry are still talking about blog spinning or article submissions in a positive light. The goalposts have shifted once again and with strong emphasis being placed on content, you may need to review how you are tying this into your SEO campaigns across the board.
Content shouldn't be one-dimensional
A range of strong links from a mix of channels will serve your SEO campaigns well, so long as the inbound links are from worthy and authoritative sources. Let's say for example you have been working on a site, either in-house or client side, by creating a number of blog posts per month for the past year. Chances are the strength of the blog will have grown, especially if they were using the blog on a regular basis before you started adding additional content. However, in light of Google updates and where the future of search engine optimisation looks to be heading, there is so much more you could be doing with the content  besides just blog posts.
This isn't to discredit the power of blog posting and promotion in anyway, in fact quite the opposite. The Koozai blog has gone from strength to strength over the past few years and it's a prime example of what blogging can do for your site and the power it can harness. The point I'm making is if you re-evaluate how you are using content and look to incorporate other methods alongside what you are currently doing, then your campaigns will prosper. In addition, you will be able to draw in a wider audience from a range of marketing channels, which all filter through to your site, rather than solely focusing on one which you have been using for quite a while. This isn't a bad thing by any means, but there are additional ways of generating traffic and hopefully conversions in the long run too.
Finding an angle for your content
Some companies may take the view that when it comes to SEO, content can do very little for them. The reason they come to this conclusion is usually down to the idea that the niche or industry they work in won't allow them to be creative, where others may take the stance that no one will want to read the content they produce. No matter how simple or one dimensional you perceive your business to be, there will always be something unique that you can create content wise. Instead of the views taken above, it's normally more to do with a frustration or a lack of ideas which restricts what you could be doing with content.
However, it is fair to say that when it comes to thinking of ideas, it's easier for some industries more so than others to get the ball rolling, given the nature of what it is that they do. Although beyond these boundaries, content can be applied to any business, large or small, established or brand new.
Generating your ideas
Using a hypothetical scenario, let's say you are asked to work on a client's website and their line of business involves constructing and selling garden sheds. Compared to someone selling mobile phones, offering insurance or giving financial advice, you might be questioning how you are going to build content for this particular company so that you can really maximise and improve their SEO campaigns.
Just as an example, and not in any way following on from the earlier example used, your initial idea might be to start writing blog posts on their blog which they have recently created. Regardless of whether this was set up for the purpose of informing customers of their services, or for the benefit of SEO purposes, creating these posts might have been the first thing to spring to mind.
There is nothing wrong with this and with a steady flow of unique posts being uploaded, focusing on areas such as the variations in design, how you can build your garden shed and tips for maintaining it during the winter, you should be able to garner a decent amount of interest and develop your audience given enough time.
Developing the initial idea
If you are looking to use the content in other ways, all of the above topics could be redeveloped to create a comprehensive and informative guide for another publishing site. Just because you have used an idea for one content platform, it doesn't mean to say that the same principle can't be used elsewhere. Obviously this wouldn't involve a copy and paste job and the title would need to be redeveloped or changed completely as this could be viewed as duplicated content which is against the guidelines of the search engines. Instead, use what you have learnt as a basis to create detailed information incorporating videos, pictures and other content available on the specific platform.
In addition, your company or client may have some exciting and important news or PR that they would like to share. This helps from a branding and community building perspective. Content based around real events presents a human side to any business, which really helps from a Content Marketing perspective.
In this instance, creating a Press Release will give you wider exposure and depending on the distribution service you use, it's possible that it will be sent to a vast number of news outlets for people to pick up on. This goes back to the earlier point whereby you are building decent content and also creating a presence online. Once you share this information, other companies and users can find and share it via social which will firstly, help the site from a rankings perspective and secondly, help to build brand awareness.
Focusing on the topic of how to build or maintain your garden shed, you could develop your content as a guest post on a gardening/home improvement site or blog. You might have to elaborate the concept slightly and look into the topic in greater detail, but if it fits the bill and the site owner is prepared to accept the approved content, your original idea has now been developed into a guest blog post.
Guest blogging is a powerful tool when used properly, so long as the content you create is of a high standard and you manage to secure the post on a suitable site, it will be worth the investment. This also allows you to be a little more creative with the content you are writing as you will be targeting a different audience on a different platform.
So you can see, your initial idea has created three different types of content; a blog post, an informative guide, and a guest post.
Alternative methods
This blog post isn't going to look at everything that you can do in terms of content marketing, but it's a reminder that in some cases it's about spotting a potential gap in the market and really working with your ideas in order to use content to its full potential. These ideas might not come to you instantly, but this isn't a problem. As long as you are utilising content in some way and building on it in the long run, then you can start to develop the profile of the sites you are working on. The examples above are just some of the things you can start off with and they display how one idea can be altered and adapted in order to find another angle for your content on various platforms.
If creating content is something which you are only just starting to get involved with, then it might be a case of writing first and getting used to the particular subject matter before you explore your options. As you start to become an expert with the subject and you are comfortable with what you're producing, you may be able to find really creative ways to write and promote, tying in more than just written text.
The SEO landscape is always changing. At present, content is a big focus and by utilising it in different ways, you can aim to bring in more people to your site from a range of sources. Start thinking about how you are using content and how you can potentially work with your existing ideas to build on them and help your campaigns for the better.
Image Source
Hand Drawing Content Flow Chart via BigStock
Share this post