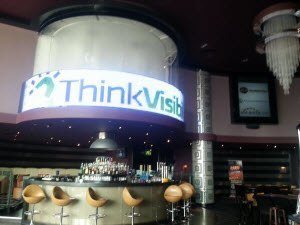 This weekend Think Visibility celebrated its fifth year and 9th conference. It was a birthday party, a Christmas party and of course had great sessions about SEO, business, analytics and more! I had a fantastic time meeting new people, catching up with those I'd met before and learning new things.
Here's a summary of some of the sessions and slides where available. With two tracks I couldn't make it to every session so hopefully others will also be writing those up!
Swerving the Guest Blogging Smackdown
by James Agate of SkyRocket
James talked about how to make your guest blogging as beneficial as possible both now and in the future should Google suddenly smackdown on it.
Top 10 things to avoid:
Sites with multiple categories and no specific topic
Sites which only have guest posts
Sites with guest posts by anyone
SEO link requirements
Pay for a link
Automated sites / posts
Sites that Panda was designed to bring down
Double dip posts (two topics in one post)
Spammy looking bio links
Using only a small set of publishers
James discussed positive activity to undertake, including how to decide if the site is worth it to you, how you should think like a publisher and how to make sure the sites are relevant. Other tips included using links to good quality resources as well as your commercial links, use brand anchor text in the post and then promote the post using more keyword focus.
Digital Attribution – models and how to talk about attribution to a business
by Russell McAthy of Stream:20
Russell's talk was the one of most interest to me, as an advanced analytics user. He talked about how and why to use attribution models within web analytics. Focusing on bringing together information about users on different devices and reaching your website or store through different marketing channels.
Attribution can help you with:
Media planning
Understanding the cost of channels
Customer journeys
There are three types of attribution:
Different channels (PPC, Email, Display etc)
Different screens (phones, PCs, interactive TVs etc)
Digital to store (online / offline)
The aim is to join different channels and screens together.
It is also beneficial to break down attribution to prove how much cheaper the cost per conversion is in digital marketing compared to offline marketing.
Methods to help with attribution:
Use vanity URLs with redirects (as seen in many TV adverts)
Use different offer codes for different marketing channels
Correlate timings of activity with promotional activity (maths genius required)
Experiment
There are three ways to connect journeys:
The important thing to remember with attribution is that it is about identifying trends, not pinpointing individual journeys.
There are 5 different models that you could use for attribution:
Linear
First
Last
Time decay
Position
Image taken from Russell's slides.
You will want to consider:
Sequence, location
Recency, frequency
Channel
Impression relationship
Customer insight
How and when to use attribution:
For channel management – spread your budget across different channels in order to increase conversions, one channel alone will not be as successful as a combination
Get site experience insight and use this to customise user journeys and pages. The content of pages can be generated dynamically depending on what the user has shown an interest, this can then funnel them through to the information most relevant to them to help improve the chances of conversions.
And finally, use it for gaining customer insight.
How to spot a sh*tty link
by Paul Madden of Automica
Paul's talk was very interesting given the recent Interflora issue. Some key takeaways were:
Manual penalties given by Google can only be removed manually.
The process is: Warning in Webmaster Tools, you have a couple of weeks to clean up your links before they then look to give you a manual penalty.
Google are punishing people for caring about their business and investing in methods that can help them improve business. Google are also breaking all their rules themselves.
Be diverse in your link building so that when Google makes another update you still have other types of links to rely on.
Every link has a risk that needs to be managed.
Removing links is almost as bad as not removing them. It is essential to understand which ones are beneficial and which ones are harmful. If you remove too many links you may not see rankings return to as high as they were once the penalty has been lifted.
It is good to identify sites in your link profile which may have been disavowed by other webmasters.
Always look at every link within its own context.
When using the disavow tool, make sure you have records of the activity that you have taken, Google like to see that you have made an effort to remove the links before you put them in the disavow tool.
Once you have submitted a disavow wait to see when those sites are next crawled, then do the recinclusion request.
For every link to remove, consider how to replace it.
Know when you are beaten.
(Past, Present and) future of Negative SEO
by IrishWonder of Content Mango
It's been a hot topic for a while and is only going to increase in importance, here are Julia's slides. Julia has become a prolific negative SEO speaker and having heard some of the examples of what she's seen I can understand why! For many SEOs, the activities carried out for negative SEO are ones you might not even consider happening until it's too late. It is important for all SEOs to know both the beneficial SEO and how it can be done differently to enable us to keep on top of things. If we don't understand how negative SEO is done, how can we fight it?
Julia covered a range of ways in which links can be used for negative SEO, from anchor text, to quality, to neighbourhoods. Duplicate content was also covered, you should be regularly checking that no other sites use your content and making sure you file a DMCA against them before they file one against you and get you removed from the SERPs!
On top of these, there are also the following ways in which negative SEO can happen when site owners make mistakes:
Indexable search results
Insecure plugins
Malware
Bad redirects
Duplicate content due to site structure
Inneffective reputation management
Negative mentions appearing in rankings
Social media campaigns going wrong
Negative SEO is not going to go away, but it is also likely to only be done where it is achievable and economical, although that still means a lot of sites are at risk. There isn't a way to be 100% safe but if you are aware of everything discussed here and keep an eye out for changes then you will be prepared should it happen to you.
Maximising Your SERP Potential – Enhance Your Listings with Rich Snippets
by Pete Handley of the Media Flow
Here are the slides that take you through examples, reasons, code and helpful tools to help you improve your rich snippets. It's definitely a tactic worth looking in to.
Pete has done a lot of work with Rich Snippets and how they can be utilised to help your results stand out by showing additional information for:
People

Authors
Reviews
Recipes
Events
Products
Video
Music
Pete talked us through data that shows that the Click through Rate increased once schema code had been implemented for reviews and authors.
There are three methods you can use:
Microdata (recommended by Google)
Microformats
RDFa
https://schema.org/ can be used to create most mark ups, including:
people
reviews
recipes
events
products
videos
Raven have published a tool to help even more with this: https://schema-creator.org/
There's also the microDATAgenerator: https://www.microdatagenerator.com/
For Authorship use rel=Author link to your Google+ page from your author bio on blog posts and edit your profile to show that you are a contributor to the blog.
Once you have implemented the code you should use Google's Structured Data Testing tool.
Pete encouraged us to use combinations together but also explained that sometimes it won't work. Also, there may be reasons not to use some of them or to hope others don't use them for you. Pete has a number of examples of negative information being shown in Rich Snippets for companies who have not managed to keep their customers happy.
And finally…
It was great to meet so many people there and discuss SEO, analytics and other topics in great detail. The surprises that organiser Dom comes up with every year make it special and fun.This year featured a snowboard machine, Christmas crackers and Santa even gave us all a toy during the Linky Wonderland Party! Massive thanks to the whole team for making it what it is!
Share this post