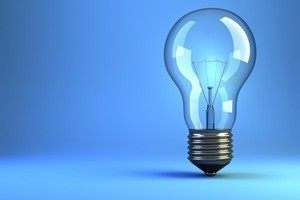 Writer's block, it happens to all of us. From time to time you'll be ready to write something before you sit down, get out the laptop, fire up Word only to then spend the next ten minutes staring at the pixels on the screen.
Not being able to translate your ideas to paper, or even come up with an idea in the first place can be frustrating. At times, you'll have an initial concept but the idea isn't as solid as you need it to be or you won't know where to start. In other cases, you'll be completely stuck for inspiration or find it difficult to get the words out.
When it comes to creating content, the first step is always the hardest. Once you allow time for your ideas to develop, either through a thorough plan, a discussion with colleagues, or simply through writing and letting your ideas expand, you'll often find that the writer's block was a fleeting moment….. hopefully anyway. However, we have no bearing on when writer's block will strike again.
Google updates
There are a number of people in a range of professions who need to write content on a regular basis; from journalists, novelists and copywriters, to bloggers, advertisers and marketers. Whether it's for their job, or because it's a personal passion, content matters to all of them. If your content has a close connection with SEO, then you'll understand the importance of spending time on it and why you need to think creatively.
The reason for this is because of recent updates from Google, notably the Panda update which has a strong focus on punishing sites using poor quality content. With the emphasis shifting towards the creation of higher quality content, in greater quantity, writer's block can prove to be frustrating. Remember that good ideas and good content will often be shared and this works like a domino effect to bring in traffic to your site as well.
What can you do?
So if you rely on content but the ideas or words don't come to you, don't be hard on yourself; like I said before, it happens to all of us now and again – yes even copywriters. Let's take a closer look at what you can do if you end up with writer's block.
In some of these suggestions the boundaries are merged between ways of coming up with a killer idea and how to specifically help solve writer's block. However, sometimes you need the initial idea to trigger the subject and consequently the words you are going to write, so I feel this is still an important aspect to include.
If you have any other suggestions besides those mentioned below then please feel free to add them to the comments section at the bottom of this post.
1.       Where is your content going to be published?
If you know you are writing for a particular publication or platform, then take a look at existing content on the actual site. This will enable you to get the ball rolling and view the tone they require and the subjects they are exploring. Different media will require a different style of content, so doing the research first will allow you to cater for that particular audience and this may trigger a creative surge for your ideas and words too.
2.       Read industry sites & blogs
If you immerse yourself within your industry by reading top blogs and websites then you will be surprised at how many ideas can materialise from one single story alone. If you find a subject you are interested in then you can put your own spin on it in your content. From updates, restrictions in your business, new rules which have come into force or future predictions, someone else's idea can give you a clearer vision for what you want to write about and help to cure your writer's block.
3.       Explore your passions
Sometimes when you can't find the words on a particular topic, it's a good idea to explore your passions. Perhaps you love social media or you find the Internet or mobile technology is a strong area of interest, not only within your job but outside of the work environment too. Whatever it is that makes you tick, write about it. If you are passionate about a particular subject then this will show within your content and others will value it as a passionate and opinionated post.
4.       Challenge yourself
In contrast, why not write about a particular area which you don't know a great deal about. Not only will you learn about a new topic you knew little about before, you might even adapt your writing skills by choosing something outside of your comfort zone. This will help you to establish a broad range of writing styles which you can use in the future.
5.         What gets to you?
Ask yourself what really winds you up? When you find a particular gripe that you can explore, this often causes the perfect chain reaction to get the words flowing. As long as you're not nasty or aggressive, you should be able to express your thoughts and discuss what you would like to see changed. Have a think about what annoys you and start getting it down on paper.
6.       Take note of ideas as they come to you
If you're working on something else and suddenly an idea comes to you, make sure you take note of it there and then. You could even keep record of all of your ideas in a separate Word or notepad document. This means that you already have a few ideas to explore when it comes to writing your content and you won't be wasting time staring at a blank canvas. Sometimes it's easier to let your ideas come to you, rather than chase them at a given moment.
7.        Start writing
If you don't know where to begin, then just start writing. It might sound like a stupid idea, but you can edit your points or expand ideas at a later date. You don't always have to open every blog post, press release, interview, or other piece of content with the most perfectly structured sentence in the world. It's more important that all of your valid points are written down and then you can work out a structure, re-arrange and edit. It's not an advised method in all cases, although when you are struggling for words it can pay off.
8.       Use events and conferences as inspiration
If you ever attend industry events or conferences then these are the perfect places to source ideas for future content. They are also great for meeting new people, talking about the industry you work in and sharing your own ideas with other people. It's not uncommon to come away from a conference or event and have ten new ideas for content that you could create. Again it's finding an idea that triggers off a reaction in order for you to feel comfortable about writing on a particular topic.
9.       Use Google Alerts
If you find keywords for the areas you are interested in then you can set up Google Alerts and get the very latest information sent to you on that particular topic. Once the alerts are set up you will receive a notification via email, meaning you can source possible writing ideas, as well as keep up-to-date on particular areas of interest.
10.   Think of your content as a story
If you are struggling to write, then just think of your concept as a story. All stories have a beginning, middle and an end, so follow this exact format yourself. Start with an introduction, end with a conclusion or summary and fill the middle with content. It sounds like an obvious solution, but when you think of it in this way it allows you to break up one big piece of content into three manageable sections.
11.   Explore subheadings from your title
A little bit of planning will take you a long way, so once you have a title, use this and start making notes for subheadings. If you think about topics that are relevant to your title, they can become your subheadings and you can use these as a guide when writing. This takes the pressure away from thinking you have to write a large amount of content in one go as the subheadings will form shorter and easier sections to write.
12.    Review your previous writing
If you find older pieces of content that you have written then you might be able to use them as inspiration and take a different angle on them for future content. Say you explored a particular topic in the past and there has since been changes, you could refresh your memory and then explore the issue again. Since the update, your views might have changed, so it can sometimes be worth using older content and going back to readdress the ideas, so long as it fits.
13.   Follow this rule
Sometimes the following rule can really help when your thoughts don't translate to paper. Similar to the earlier example, where you think of content in terms of telling a story, try telling your audience what you are going to write about (introduction), write it (content), then tell them what you have written (summary). It might sound like a ridiculous idea, but again it puts all of you thoughts into context and provides you with a solid structure.
14.   Take a break
If you are really struggling then take a break from your current work, focus your attention on something else for a short while and then come back to it. It doesn't matter if you read an article, check your emails, or make a cup of tea; sometimes once you return to the same piece of content again after a break you'll find that you have a fresh perspective and some of the frustrations that were holding you back have lifted. If you focus too hard on what you are trying to write about, you can sometimes lose sight of the overall picture. Take five and come back when you feel more relaxed.
 15.   Discuss your concept with work colleagues
If you talk about your initial concept with those around you, then a good idea can materialise into a great idea and you'll feel more confident when writing. This doesn't mean to say that you should always go to them without having an idea first, but instead talk about what you've come up with. It's often the case that once an idea has been explored and other people have brought ideas to the table, then you can really look into a subject in greater detail and work on angles which you hadn't thought about before.
16.   Research
If you really can't write, then go back and research more in greater depth. Not having sufficient information on a topic can restrict you, so therefore look into the subject and you'll probably come away with not only the info you needed, but also a few more title ideas for future content. This is more relevant for technical areas or topics you don't normally focus on, so spending half an hour researching first could save an hour of wasted time later on.
17.   Interview an expert
Sometimes you don't always want to work on a particular topic, so why not use an expert in the field to answer the questions for you. What they say can form the basis of your own work and this will make it a little easier to present the findings when you write them up. It also makes your content seem more valuable if an expert has given their opinion. You shouldn't be restricted by topic either as there are experts in nearly all industries from finance or art, to leisure and marketing. It's not going to work for every format, but when it does it's worth trying.
18.   Disprove an idea
Why not challenge an existing belief on a particular topic. If you feel strongly about it, you can explore what you think is correct and why the current theory or idea is inaccurate. Present your own view and try and get other people to include what they think too so you can get a discussion going.
19.   Use social media
Look through social platforms and see what people are talking about. Joining a particular group on Facebook or using the hashtag search feature in Twitter can bring up some interesting areas to look into. Not only can you source your ideas from social media, you also get the chance to promote your content to a very large audience once it's finished. For site or blog owners, this can help to bring viewers back to your site at a later date if you keep promoting using social.
 20.   Create a case study
If you have been working on a particular area for a while, you might have enough data to present a case study. Alternatively, you could always spend time researching online and using other resources to draw in your data, although this is obviously time permitting. It's another creative way to think about how to present your content and can also help to prevent writer's block.
Hopefully these examples will help you to think about how to draw on your own ideas, gain inspiration for your content and find the right words to deal with your writer's block. It does happen from time to time, but if you know of a number of ways to avoid it, you won't be staring at the screen for too long and you can enjoy focusing on a subject, allowing the words to flow. As mentioned above, if you have any of your own ideas to add then please feel free to do so in the comments section below.
Image Source
Lightbulb via BigStock
Share this post