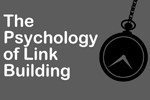 It's tough to get links from high profile websites such as the Guardian and TIME and only the strongest pitches and most effective outreach will get results. To do this it's vital you understand the way people you are contacting work, alongside the needs they have, and all the hundreds of others things they have to get done.
You can do this with psychology, and in this presentation we reveal the same psychological techniques we used to get coverage in the BBC, Daily Mail, CBS, TIME and many more. Best of all we show you how to do this too.
Slides
For this talk Koozai partnered with Distilled for an evening of networking, presentations and good times.
If you haven't signed up for the Linklove conference be sure to check it out, or learn more about the other speakers Annabel Hodges and Philip Nottingham who gave excellent talks.
Photos
You can view a full set of photos from my talk on our Facebook page. A few sample shots are below:
View more photos on our Facebook page.
Slide Cover
We also put together a custom cover for this presentation which was inspired by retro books and video game covers.